Last update: 18-August-2018
Introduction
Every country in the world is currently facing the problem of an aging population, In developed countries, the average aging index is 106%. When it comes to that of individual countries, Japan's is 200%, Germany's is 162%, Canada's is 100%, France's is 95%, the United Kingdom's is 94%, Korea's is 93%, Singapore's is 69%, and so on.
In contrast, developing countries average 21%, with China at 59%, Malaysia at 23%, the Philippines at 12%. In the case of Taiwan, its aging index is 92%.
The number of foreign domestic employees in Taiwan has increased 5.77 percent last year, nearly triple 2015's growth, there were 624,758 migrant workers, 237,291 of whom were employed as caregivers or home helpers. 


Problem
Our team has found communication costs are too high between foreign worker, employer and elder( grandpa or grandma) such as
Foreign worker perspective:
Chinese in Taiwan are not really the same on what foreign worker had learned in their country.
Rule and Task assign by the employer isn't clear.
No modest breaks time.
Employer perspective:
Each physical and mental condition of the elderly is different, would be nice to catch up as fast as possible.
Able to communicate with foreign worker by daily used words and slang.
Process
We ran some interview with Indonesia workers by using in-depth interview and focus group methods. They shared a lot of their own experiences and life stories so that we can put ourselves in the place to think and conduct insights.
Solution
We hope to design a mobile device App, the main function is based on "tutorials." Allow foreign care to quickly adapt to the care work and build a foundation of mutual trust with the employer. These are our highlights: Instant translation, tutorials, recipes, and emergency contact functions. 
Flows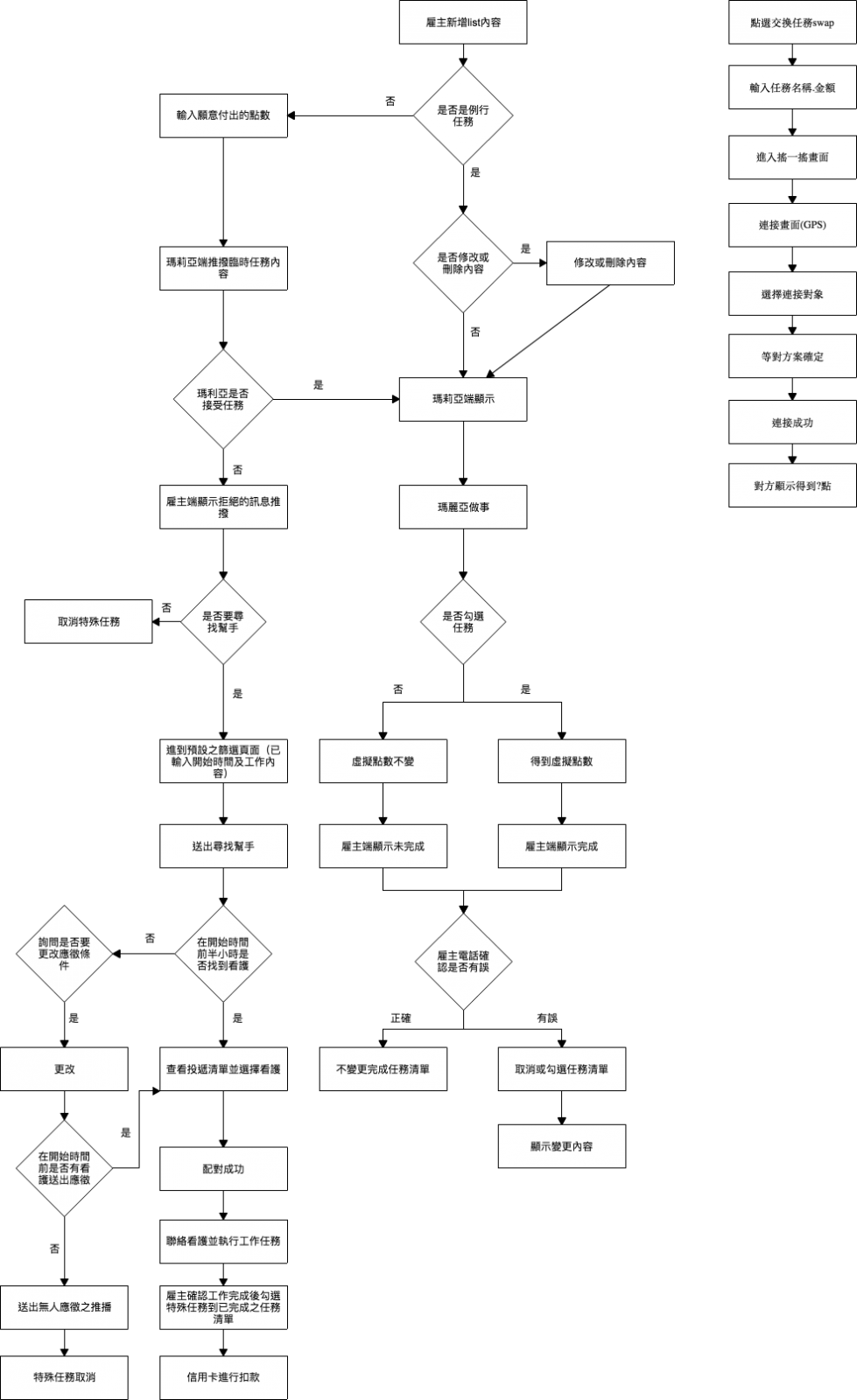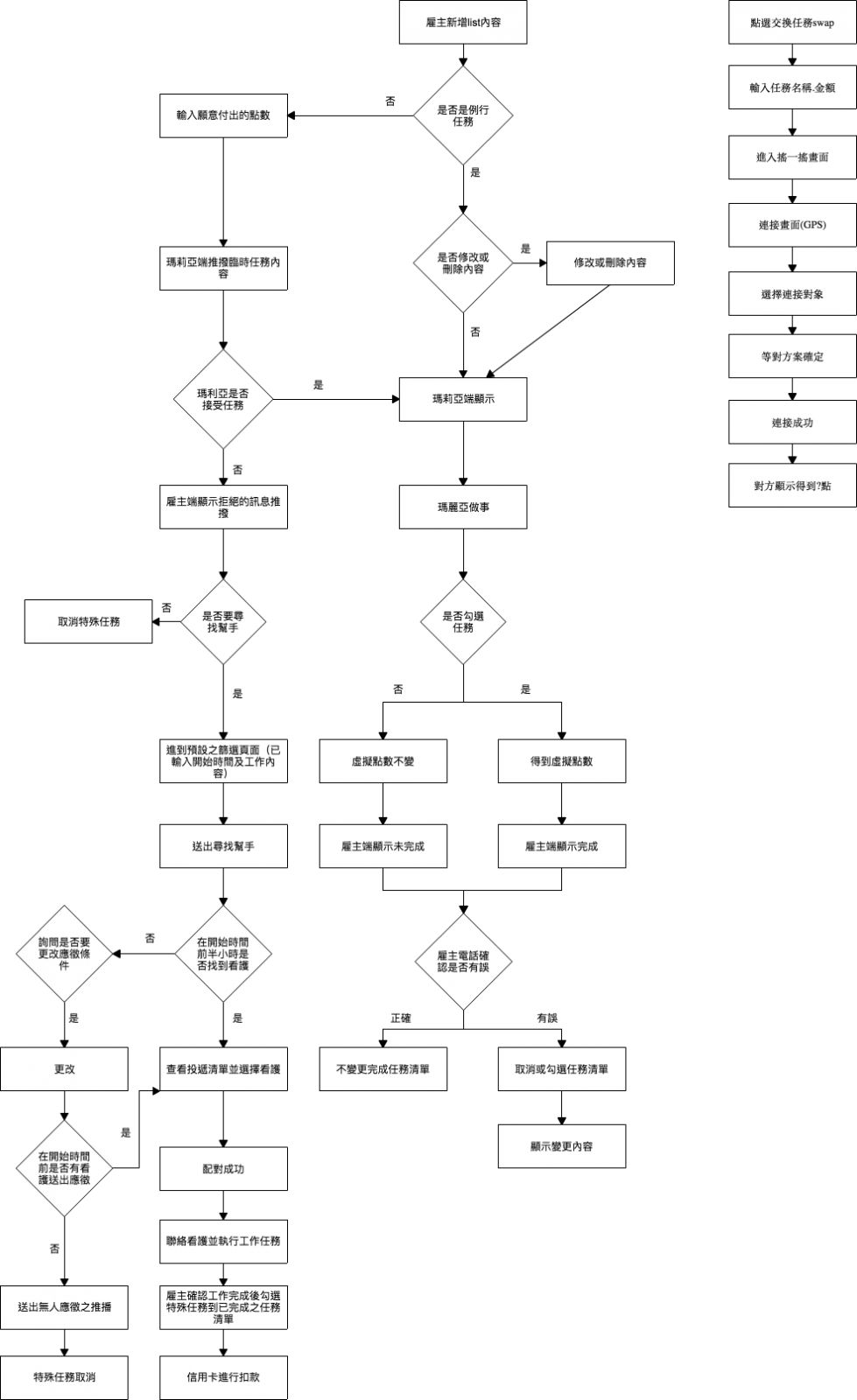 Apps structure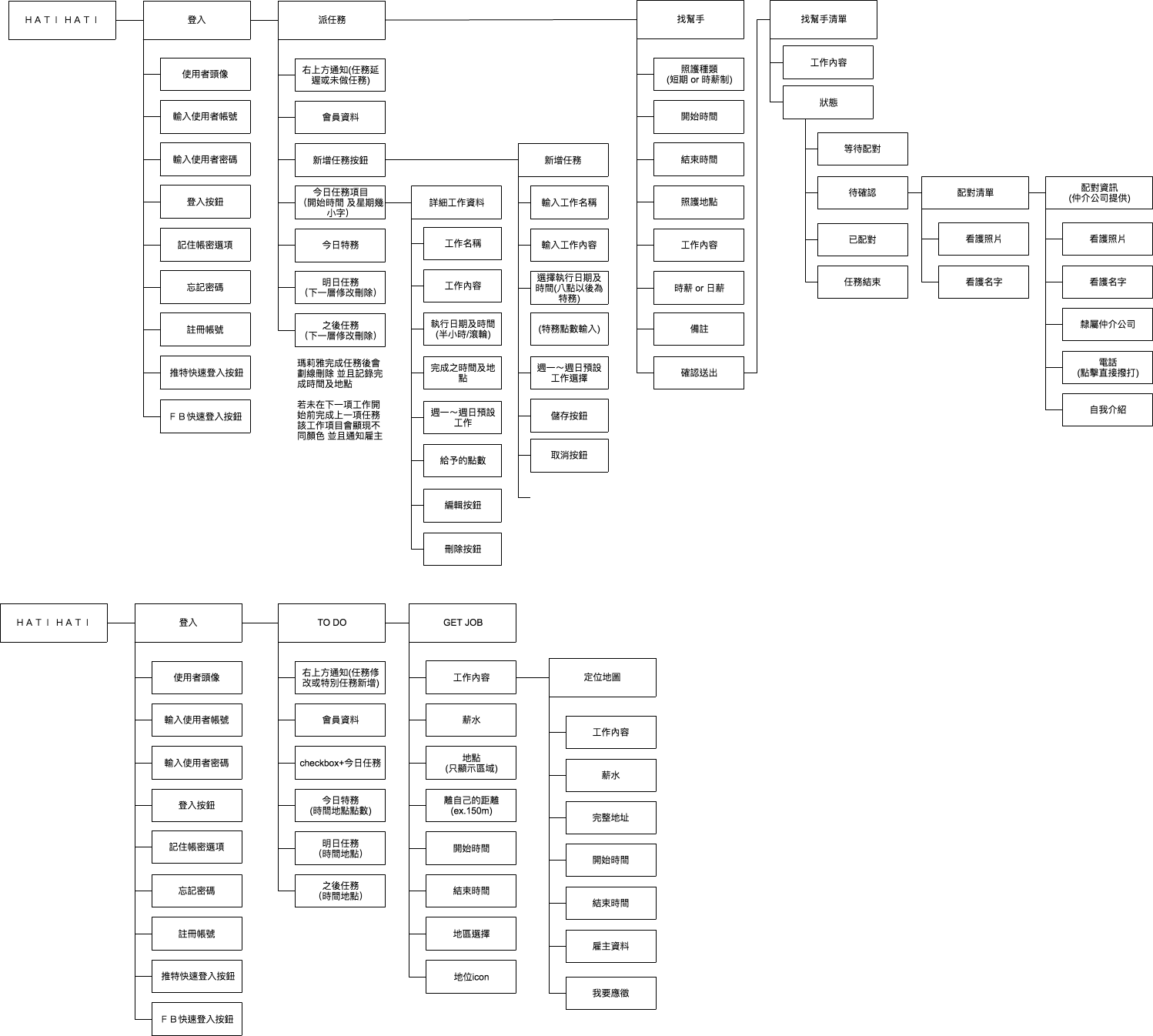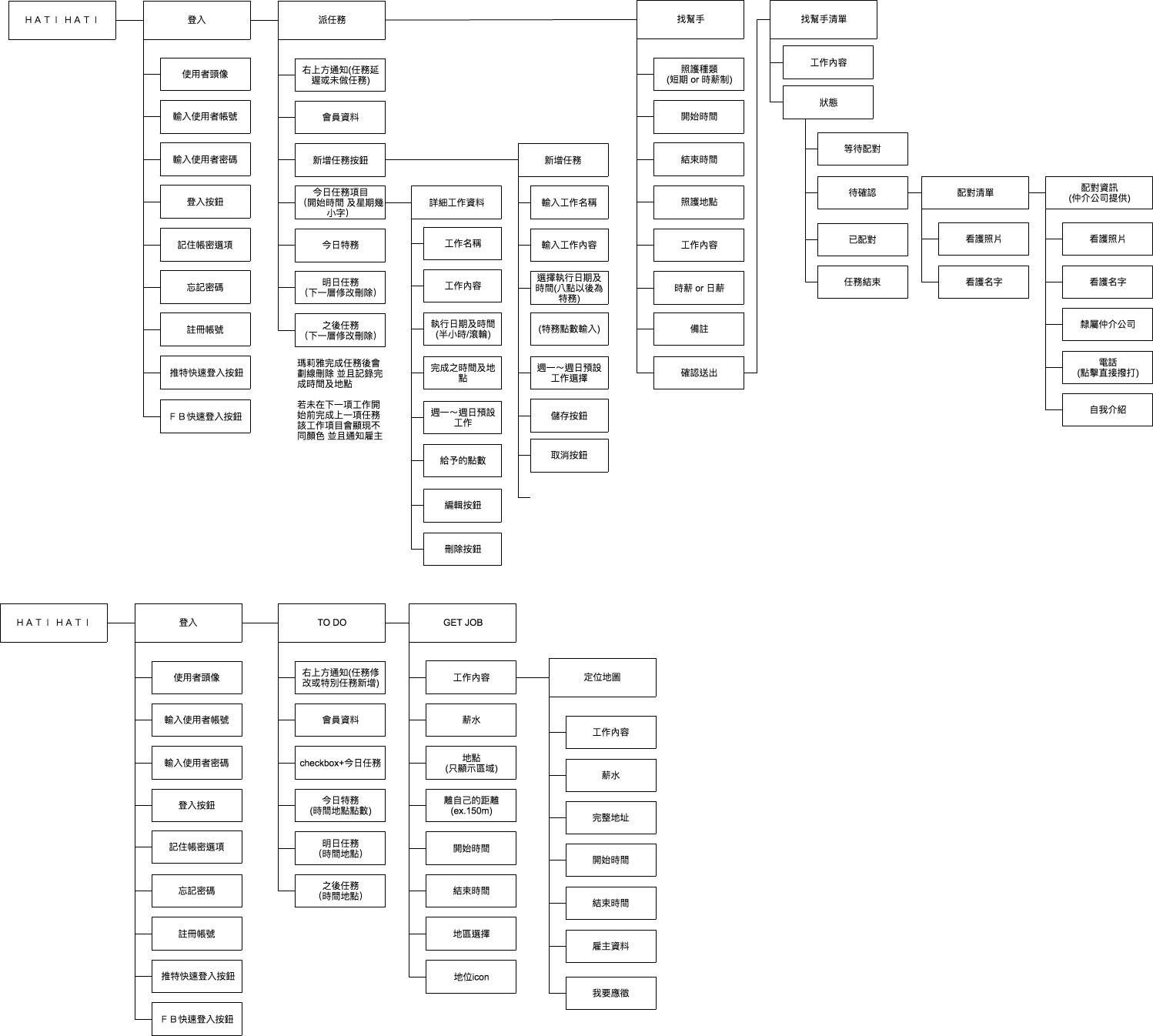 Prototype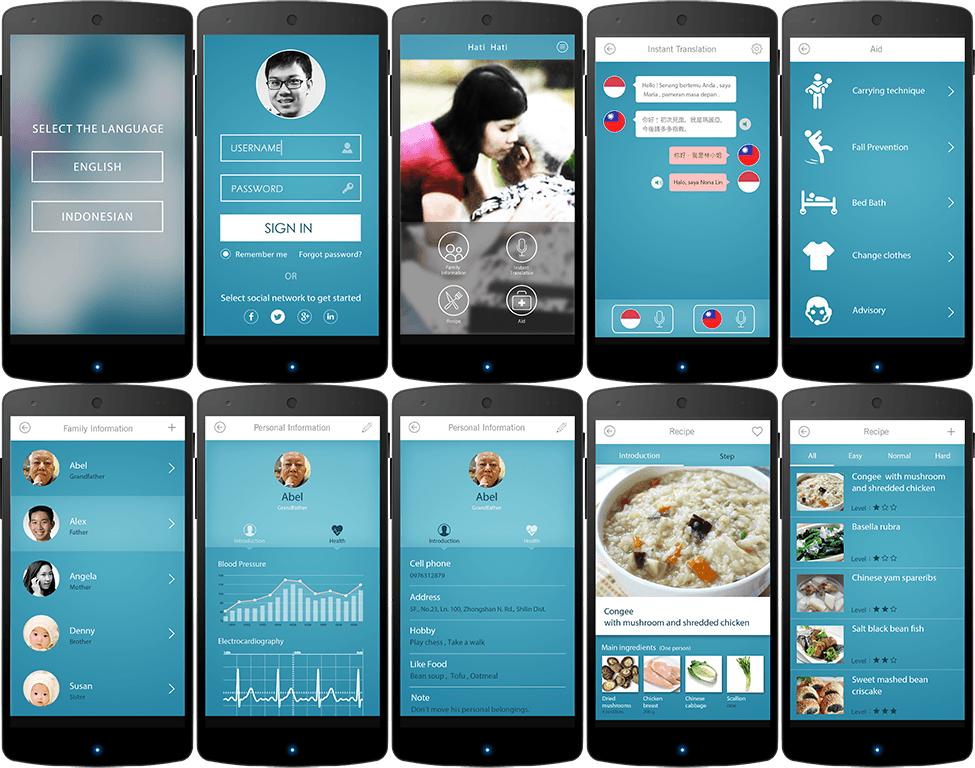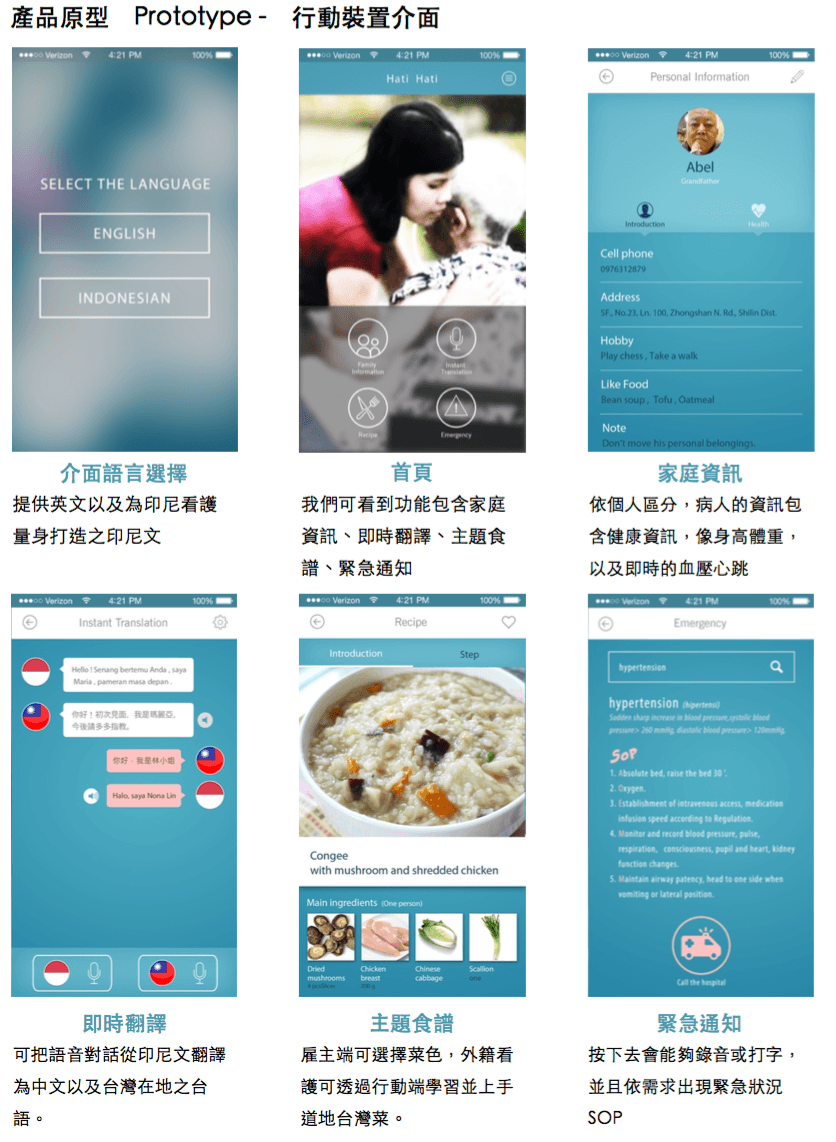 Team members:
Oo Kang Zheng (Prototype, Business modal)
Horace Chuang (Video production, Project Manager)
Vivian Wang (UI/UX Design)
Jill Hsu (UX, Mockup)
References:
Li, J., Deng, L., Gong, Y., & Haeb-Umbach, R. (2014). An overview of noise-robust automatic speech recognition. Audio, Speech, and Language Processing, IEEE/ACM Transactions on, 22(4), 745-777.
Jung, E. Y., Kim, J., Chung, K. Y., & Park, D. K. (2014). Mobile healthcare application with EMR interoperability for diabetes patients. Cluster Computing,17(3), 871-880.
Li, H. H., Liao, Y. H., & Chang, C. T. (2015, January). Using mobile application for Long-Term Care system. In Mobile Computing and Ubiquitous Networking (ICMU), 2015 Eighth International Conference on (pp. 62-63). IEEE.
Shin, S., Matson, E. T., Park, J., Yang, B., Lee, J., & Jung, J. W. (2015, February). Speech-to-speech translation humanoid robot in doctor's office. InAutomation, Robotics and Applications (ICARA), 2015 6th International Conference on (pp. 484-489). IEEE.
陳士杰, 李韋柔, 王映婷, & 鄭伃婷. (2014). 以 Android 行動平台為基礎之銀髮族服務機制之研究. 管理資訊計算, 3(1), 167-173.
王建堯, 劉志翔, 吳怡欣, 邱育賢, 陳意雯, 沈晏麟, … & 蕭暉議. (2014). 社群化健康照護平台之設計與實現. 醫療資訊雜誌, 23(1), 49-61.
李孟芬, & 潘立傑. (2012). 淺談行動健康服務的應用. 長期照護雜誌, 16(3), 237-250.
社福外籍勞工人口成長表
(http://statdb.mol.gov.tw/statis/jspProxy.aspx?sys=210&kind=21&type=1&funid=q13016&rdm=odllxemr)
就業好伙伴 電子報月刊 /「就業安全」半年刊
(http://www2.evta.gov.tw/safe/docs/safe95/userplane/half_year_display.asp?menu_id=3&submenu_id=464&ap_id=633)
經濟放緩、失業率與物價上升!印尼數千名工人街頭示威 提9點訴求
(http://www.thenewslens.com/post/213681/)
聯合新聞網 – 逾85歲失能 聘外籍看護鬆綁